As shown below, Seehau supports high-level viewing of your C Source Code.
Nohau supports many popular compilers such as Archimedes, Cosmic, IAR, Introl, Microtec, TASKING and others.

---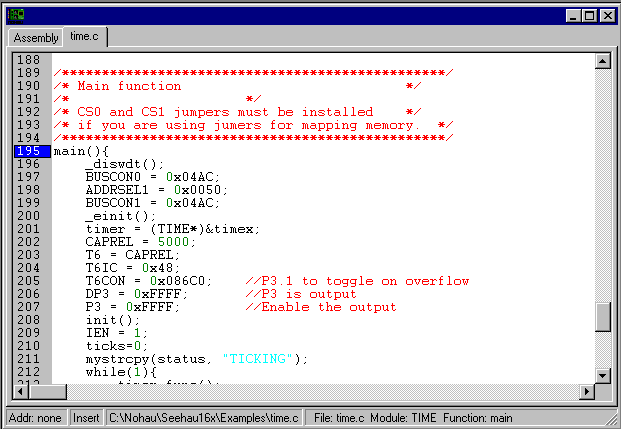 ---
Ice Technology, 430 Peninsula Ave, Suite 6, San Mateo, CA 94401
Ph:1-800.68.NOHAU (1-800-686-6428) or (650) 375-0409 - Fax:(650) 375-8666
Ice Technology, 1324 White Oaks Road, Campbell CA, 95008
Ph: (408) 626-7893 - Fax: (408) 626-9473
E-mail:
Support: support@icetech.com
Sales: sales@icetech.com
EMUL51-PC, EMUL68-PCEMUL-ST10/SUPER10/C166S V2-PC, EMUL12-PC, EMUL-and EMUL-ARM-PC are trademarks of Ice Technology a dba of Enable Engineering Co., Inc.. Other products and brand names are trademarks or registered trademarks of their respective holders.