MACROS
---
A macro Debugger / Editor is built into Seehau.
Shown here is a macro with a breakpoint (shown by the RED dot on the left side of the the debugger/editor screen). The debugger allows a user to modify and debug the macros without leaving the emulator's user interface.
The macros in the Seehau software is Visual Basic code. Nohau® has extended the Visual Basic by adding over 500 emulator specific commands.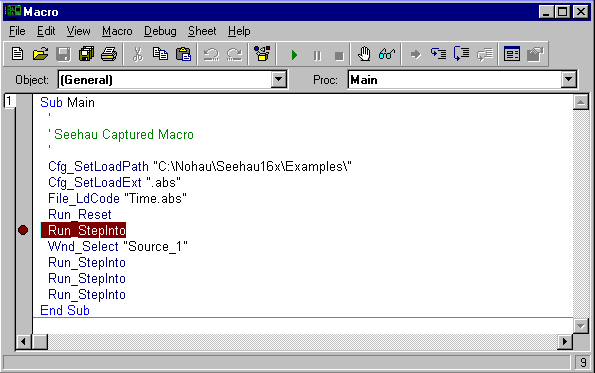 Macros can:
Create custom setups or projects.
Call other macros.
Call your compiler to rebuild your application.
Be used to automate testing procedures.
Modify and change your GUI setup on the fly.
Be hand created or automaticly recorded (captured) by typing and clicking your way through a sequence of events.
Be associated to custom defined buttons on the tool bar to be launched whenever you click on the button.
---
Ice Technology, 430 Peninsula Ave, Suite 6, San Mateo, CA 94401
Ph:1-800.68.NOHAU (1-800-686-6428) or (650) 375-0409 - Fax:(650) 375-8666
Ice Technology, 1324 White Oaks Road, Campbell CA, 95008
Ph: (408) 626-7893 - Fax: (408) 626-9473
E-mail:
Support: support@icetech.com
Sales: sales@icetech.com
EMUL51-PC, EMUL68-PCEMUL-ST10/SUPER10/C166S V2-PC, EMUL12-PC, EMUL-and EMUL-ARM-PC are trademarks of Ice Technology a dba of Enable Engineering Co., Inc.. Other products and brand names are trademarks or registered trademarks of their respective holders.